"Kalaga" is the traditional name for embroidered tapestries from Myanmar (Burma). This style comes from the Mandalay region and the tradition goes back more than a century.
They are generally made from linen, silk, velvet and cotton adorned with plain and metallic threads, metal sequins, beads and glass "stones."
Kalagas commonly depict stories from the Jataka (Buddha's journey towards enlightenment) and the Ramayana (Hindu epic Journey of King Rama) as well as historical scenes, lucky animals and signs of the zodiac. Like the decorations you might see in an ornate Burmese temple, Kalagas are awash in colorful and shiny details.
Most Kalagas are best hung in a frame but not under glass so that the detail and texture can be fully appreciated. They can also be hung as-is without a frame.


---
To avoid any confusion or misunderstanding, please read and consider the following important information BEFORE buying a Kalaga from SiamTraders.com:
Made in Myanmar (Burma)
Many people think that Kalagas come from Thailand. You can buy them in Thailand, but most of them are actually made in Myanmar. I personally select each Kalaga myself, and in most cases directly from the Burmese workshops where they are created.
Myanmar was known as Burma until 1989. The two names are used interchangeably here.
Age
Most of the Kalagas sold here are relatively new (less than 5 or 10 years old). Sometimes I see pieces that appear old, but are probably just made to look old (simulated "aging") or in an older style. I do my best to correctly represent the ages of the items shown here, and there are a few which I believe are genuinely old. Additionally, many of the older pieces are smaller panels cut from larger kalagas, so the border may be newer than the actual embriodered panel.
Condition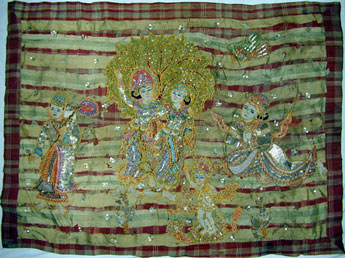 Kalagas are elaborate works of mixed-media. The textured details can become weaker over time and during storage, display or transport. Stitches come undone, borders get torn, sequins and stones fall off, colors fade and fabrics become tattered. Often these "imperfections" can add to the character of a piece, especially on older items. I will do my best to describe any such flaws and I will not attempt to conceal them. Our photos aim to accurately display the condition of the items so please check the photos carefully, keeping in mind that these types of details should be considered normal features of Kalagas.
Size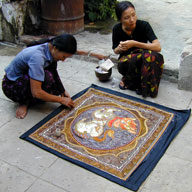 Nearly all Kalagas have an outer border which is usually made of cotton or linen but sometimes made of velvet or silk. This border covers the back side and edges of the embroidered panel. It usually measures between 1 and 3 inches on all sides and can be very useful when framing or hanging a Kalaga. The border can also be easily removed or replaced. Measurements (and pictures) on this web site include the border to allow you to better evaluate the items. PLEASE NOTE: most Kalagas are NOT perfectly square or rectangular so the sizes listed are approximate, not exact. They are often slightly taller or wider on one side and this is also a normal feature of Kalagas.
Price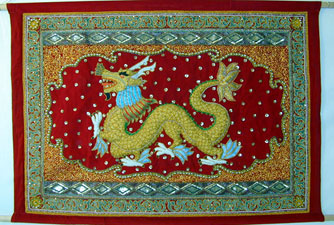 Prices on this site take several factors into account. Age, condition and size are important, but I also consider the quality, materials, style and design. In general, more intricate embroidery (with fewer blank spaces) and more generous use of sequins will merit a higher price. I try to set prices that are somewhere between wholesale and retail. If you are a reseller and are interested in bulk orders or volume discounts, please contact me.